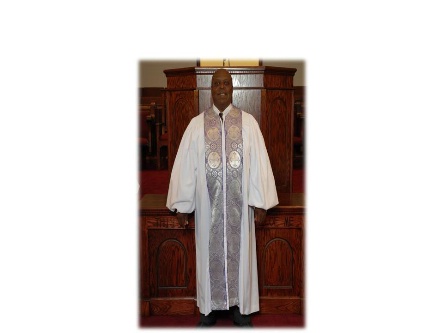 Greetings in the name of our Lord and Savior Jesus Christ,
As Pastor of this, the Lord's church, I am truly blessed. Here at the Rock; arms, hearts, and minds are open to receive the salvation of the Lord. I thank God for richly blessing this ministry. A ministry that seeks to guide and direct our faithful flock to see and to seek the salvation of the Lord.
Ephesians 4:11-12 states, "And He gave some apostles (apostles serve as leaders of the church, and so through the particular message given to them by the Lord for the church); and some prophets (who stand in the office of the prophet, thereby foretelling and forth telling); and some evangelist (to gather the harvest); and some pastors (to shepherd the flock of God); and teachers (those with a special ministry to teach the word of God)". The purpose of this fivefold ministry is given in verse 12: "For the perfecting of the saints (that is to equip for service), for the work of the ministry (to proclaim the message of redemption to the entire world), for the edifying of the body of Christ (for the spiritual building up of the church)".
Yes, we are gifted with this fivefold ministry by the anointing of God. It is God who anoints and instructs me to teach as I pastor the members of the Rock. As we obediently engage in fellowship, He continues to bless Rock Creek because of our obedient.
Many have sought the path of obedience, and unfailingly walk therein. Because of the power of the anointing of God our redeemer; He has established our Faith and we shall not be moved. Romans 5:19 states, "So by the obedience of one shall many be made righteous". We must therefore come boldly unto the throne of Grace (God is our source of boundless Grace), that we may obtain continued mercy and find grace to help in our time of need. Continue to show God's love one toward another and He will continue to bless this ministry. I am thankful for the opportunity to serve God; "We Enter to Worship and We Exit to Serve".
Yours in Christ,
Reverend Robert L. Henderson, Sr.